Part of my series on countering misconceptions in space journalism.
The SpaceX Starship is a game changer for space exploration. It is intended to be far bigger, cheaper, versatile, and available than any other launch platform. In particular, it is designed to provide for a yearly orbital capacity measured in millions of tonnes. In SpaceX's world, the days of parsimonious mass budgets and shoestring exploration plans are gone. The mission is to rapidly build a self-sufficient branch of civilization on another planet, and bombarding it with incredible quantities of cargo is a good start. As SpaceX Mars Development Engineer Paul Wooster says, "overwhelming cargo mass covers a lot of sins."

Despite this vision, some space advocates would have SpaceX modify their plan and develop smaller landing vehicles to stage directly off Starship near the Earth. A mini-Starship would require fewer resources on Mars to return to Earth, albeit with less payload and mass margin. Additionally, a staged Starship could return to Earth in a matter of days, rather than years, increasing its utilization over time.
There are a couple of reasons why, I believe, this approach is flawed. Despite that, it sets the stage for a fascinating discussion about the economics of Starship reuse, which will occupy the latter part of this post.
First, development complexity. The decision-making metric that Elon Musk has adopted has, as its single criterion, the schedule for building a city on Mars. If an action can bring that date closer, that action is taken. Musk believes, based on his experience running SpaceX, that the company works best when focused on as few development projects as possible. Not only does mini-Starship not serve the mission of delivering huge quantities of cargo to Mars, it divides resources, despite some superficial architectural similarity.
Second, payload efficiency and scaling. Generally in rocket design, payload efficiency improves with scale. That is, larger rockets deliver a larger overall fraction of their launch mass. This is because while fuel and payload both scale with volume, there is a certain mass overhead of sensors, avionics, and structural margin that needs to be diluted by a big payload.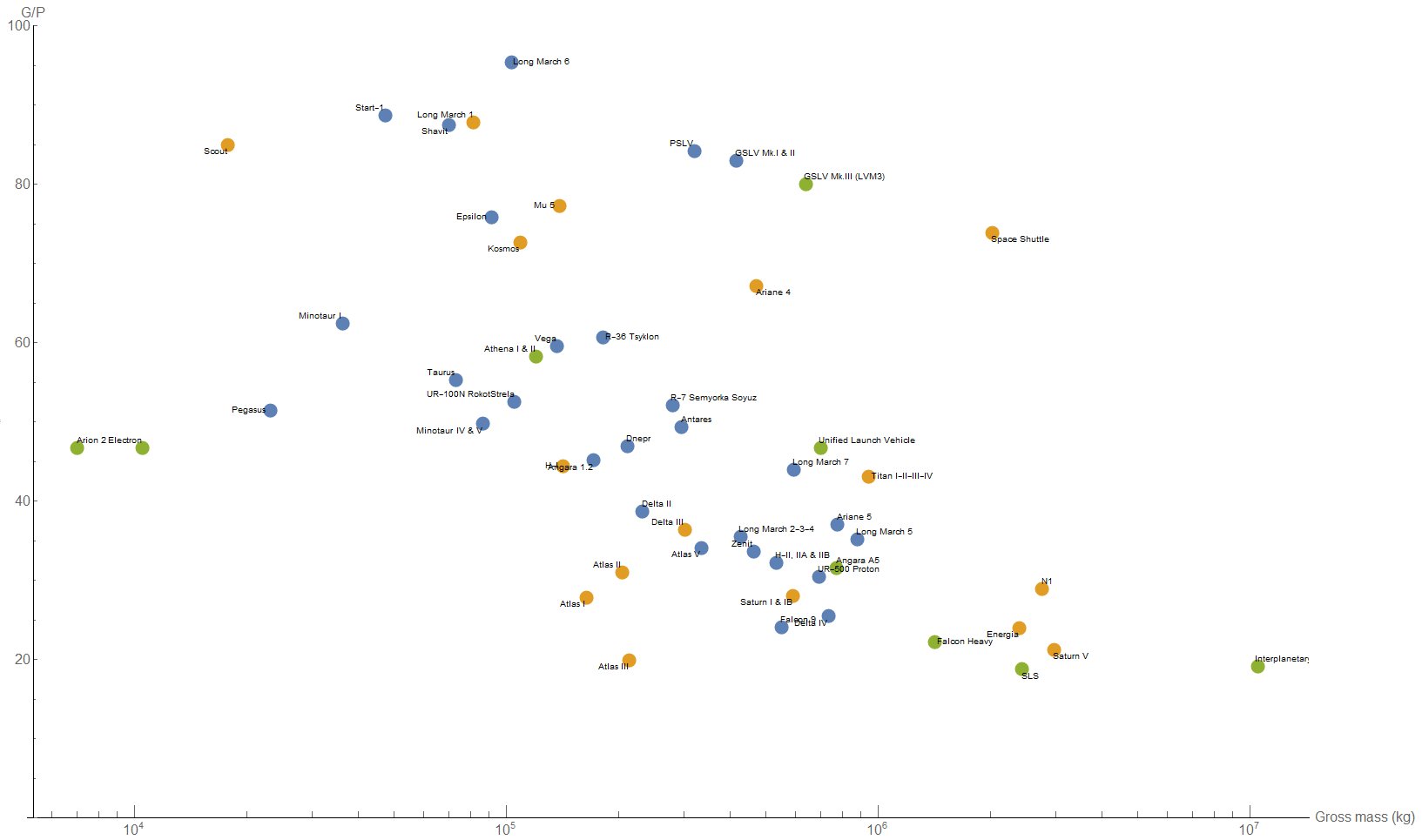 Above: This graph shows that larger rockets generally have better payload efficiency. While the Saturn V delivered about 4.5% of its launch mass to orbit, the Electron delivers 1000x less mass and only 1% of its launch mass.
Even if Starship could be built at two different scales without compromising SpaceX's limited resources, the smaller Starship would deliver proportionally less cargo per $ invested. As regards flying back to Earth, a propellant plant on Mars needs to produce large quantities of fuel to fly Starships back to Earth. In the grand scheme of things, the most important metric is not fuel per Starship (which favors smaller Starships) but fuel per landed tonne of cargo (which favors bigger Starships).
As an example, consider the movement of 1000 tonnes of cargo to Mars. This would require 10 Starships, or perhaps 120 mini-Starships one tenth the size, due to reduced cargo efficiency at smaller scale. If all the Starships are to be returned to Earth, they all need fuel. Even though the Starship requires 10 times more fuel per vehicle, overall the larger vehicles require less fuel for total reuse. In the only published study of mini-Starship, the apparent benefit of the approach is concealed in an unphysically high payload fraction for mini-Starship. Once this oversight is corrected the advantages melt away, as expected.
Above: Table 3 from the mini-Starship paper. Note that the mini-Starship somehow achieves three times the payload fraction of the regular Starship. Without this unexplained, radically unphysical improvement in performance, the supposed benefits of mini-Starship evaporate.
In summary, mini-Starship is just the sort of distracting side quest that the effort doesn't need. Refilling Starship in LEO is a logistically simplified way to achieve three stage performance from a two stage rocket. The best thing to stage from Starship is itself.
🚀🚀🚀🚀🚀
So, let's talk about optimal return fraction. In the above analysis, we've assumed that all the Starships launched to Mars are eventually returned to Earth. Does this make sense?
In the traditional exploration mode, most hardware is left behind. Yet Starships are very expensive. Getting more than one use can reduce costs and increase total cargo flown to Mars. A more detailed calculation is in order.
The SpaceX plan, c. 2020, calls for the construction of around 100 Starships a year at a unit cost of $5m. Each has an orbital payload capacity of 100 T, and amortizes its construction costs over hundreds of flights. This enables the launch costs to LEO to drop as low as perhaps $20/kg. Recall that about 85% of total LEO cargo is fuel and oxygen to refill Starships to fly to more distant locations.
The Earth-Mars launch window opens for a few months every 2.2 years. One Starship can perform the Earth-Mars-Earth round trip during this time, provided it can refuel immediately upon landing and unloading cargo. If it has to wait for the next launch window to return, it can only launch from Earth every other window, roughly every 4.3 years.
More or less continuous launches from Earth stockpile cargo and fuel in LEO until the window opens, at which point a fleet can depart for the red planet.
Above: This graph shows two-way launch windows between Mars and Earth, together with the path taken by a Starship that returns immediately upon landing.
If a Starship tanker can fly three times a day then one tanker can refill about 200 Mars-bound Starships a year. This would imply that most Starships off the line would be the deep space versions, though tankers outnumber Starships off the pad by a factor of about six to one. Super heavy booster construction is unlikely to be the bottleneck.
A Starship in LEO flying one way to Mars can transport 100 T of cargo, and requires about 500 T of extra fuel in LEO to make the journey. Its total cost, then, is $100/kg for fuel and $50/kg for the amortized Starship cost, implying a total delivery cost of $150/kg to Mars before including overhead. The Mars Society city design competition gives a cost of $500/kg, which is in line with other estimates for long term steady state cost, and would imply a transport ticket cost of about $250,000/person, once life support supplies are included.
Let's say total amortized Starship cost is $100/kg for a one way trip. If we can use the Starship twice, we can save $50/kg while doubling the cargo delivery capacity per Starship constructed. Further uses decrease marginal amortized costs accordingly. How much does it cost to fly a Starship back to Earth? We should expect that at some point, it will cost more to make the fuel than to build a new Starship, representing a local optimum of Starship reuse.
A Starship fully fueled to return to Earth requires about 1200 T of propellant and can transport around 20 T of cargo, flying as a single stage.
Transporting that much fuel to Mars, in the absence of a plant, would require 12 tankers and a long hose. So the no plant baseline increases overhead by a factor of 13. $6500/kg is still a bargain by traditional standards, but the Mars city needs an industrial base anyway, so let's build a plant.
Synthesizing that much fuel would require about 1 MW of electricity for 500 days, requiring in turn 5 hectares of solar panels. Per Starship, per launch window. At 50 kg/kWe, the solar farm would weigh 50 T. Let's assume all the rest of the propellant plant weighs 50 T, and the whole thing then fits in a single Starship.
Using the above numbers, the propellant plant would pay for itself (not including depreciation) after 10 flights. Alternatively, given a constant fleet size of N Starships, returning all of them indefinitely would require one launch window be used solely to deliver propellant plants. In my preferred models, however, the number of Starships and the size of the base increase exponentially over time, meaning that it simply isn't possible to return all the Starships and also deliver any other cargo on the first flight, under the above assumptions.
Let's take another approach. A propellant plant capable of returning one Starship costs $50m to deploy. If it was used only once, it would save only the $5m cost of a new Starship (assuming production is elastic), which is not worth it. If it is used ten times before replacement, the cost breaks even. Let's say it requires on average 8% of its mass to be replaced every launch window, implying an ongoing cost of $4m/window. With a return payload of 20 T, the return cargo cost is $200/kg, assuming the savings of reuse are passed to outbound travelers.
Of course, there is one very compelling reason why at least some Starships should fly back to Earth, even if they are cheaply mass produced and there's no construction rate constraint on cargo upmass. Some humans on Mars might want to come home after a while. Given that an outbound ticket is around $250,000 and a return ticket a bargain at only $100,000, extending a tour by 2.2 additional years could merit a hardship bonus of $350,000, in a currency of your choice!
One other consideration is the starting phase, before any infrastructure is built. In this case some number, hopefully fewer than 10, Starships will have to be sacrificed to bring essential materials before the fuel plant can be built. All of these will be early serial numbers anyway and may be designed for ongoing usage at the base.
In the exponential expansion case, retiring Starships that have done more than three or four round trips will be a small fraction (perhaps 10% or less) of the overall fleet size. Therefore, returning most Starships for reuse will require a substantial reduction in the marginal cargo mass required to increase the size of the propellant plant. In particular, a reduction of solar plant mass to 10 kg/kWe is possible using tensile inflatable structures, while storage tanks can be built from local materials. In all, this reduces the mass requirement by a factor of 10, meaning that any given fleet can be returned with a 10% mass fraction after 4 years, or a 20% mass fraction after only 2 years. The latter case actually delivers more (non fuel plant) cargo due to faster Starship reuse.
Once Starships are reused more than three or four times, their amortized construction costs are a very small fraction of overall shipping cost. Similarly, if construction rate is increasing exponentially, their contribution to overall throughput is an ever diminishing piece of the pie. Therefore I think a strong argument can be made to design for three or four flights and then retirement, in a gigantic Starship boneyard, on Mars. Either way, an exponentially expanding electricity and propellant construction capacity on Mars is a good thing for overcoming downstream constraints on industrial growth.
In the event that propellant plant mass can't be reduced below 50 kg/kWe, the argument for multiple Starship reuses is weakened significantly. Exponentially increasing Starship production still supports rapid cargo capacity growth, albeit at a rate reduced by a factor between 1 and 2. More generally, for any given propellant plant mass efficiency and rate of Starship construction growth, there is an optimum Starship reuse factor, and a corresponding rate of cargo capacity growth. For example, if Starship production doubles every two years, and the optimal rate of reuse is four, then the net increase in cargo capacity is 1+0.5+0.25+0.125 = 1.875 times the zero reuse case. Even subtracting 20% for plant components, the net cargo throughput is 50% more than the zero reuse case. If building Starships that can fly four times is less than 30% more expensive than building two use vehicles, multiple re-use makes sense in this case.
Finally, one can look at this from a Starship procurement point of view. Let's say there's an existing fleet and production capacity on Earth, plus a whole bunch sitting on Mars that only need a load of fuel to return. If we need one more Starship, is it cheaper to make another, expand the factory, or bring an extra one back? If Starships cost only $5m to build, it's hard to imagine a circumstance where procuring 1200 T of propellant on Mars would cost less than this. And yet if one does the math, cost parity would imply a wholesale electricity price on Mars of only 15c/kWh, comparable to Earth. Oddly, these scenarios aren't mutually exclusive. Very low cost of power is needed for automated industrialization, which in turn drives shipping demand, and allows relatively inexpensive refueling on Mars for Starship re-use. However, price elasticity also implies that if the marginal costs of increasing Starship production rate are comparable to increasing Mars fuel production rate, that Mars photovoltaic solar panels are in local, mass, automated production. Quite the chicken and the egg!
Starship is a vehicle designed to move cargo in the millions of tonnes. The bigger it is, the better! Even though miniaturized versions turn out to not meet the key requirements, they do motivate an interesting discussion around the economics of reuse on long time scales.