Part of my series on countering common misconceptions in space journalism.
This blog grew out of several fascinating discussions with Dr Margarita Marinova, a former SpaceX Senior Mars and Vehicle Systems Development Engineer who has also published several fascinating papers on terraforming. As all good conversations do, it began with a question:
How to start out the city on Mars?
I've written at length about working on Mars, Mars architecture, and Mars exploration systems. I've even written a book about industrializing Mars, which focuses on sustaining exponential growth of the city. But it's still necessary to transition from Mars' current state of robot habitation to human habitation. How does that look? What are the first few years like?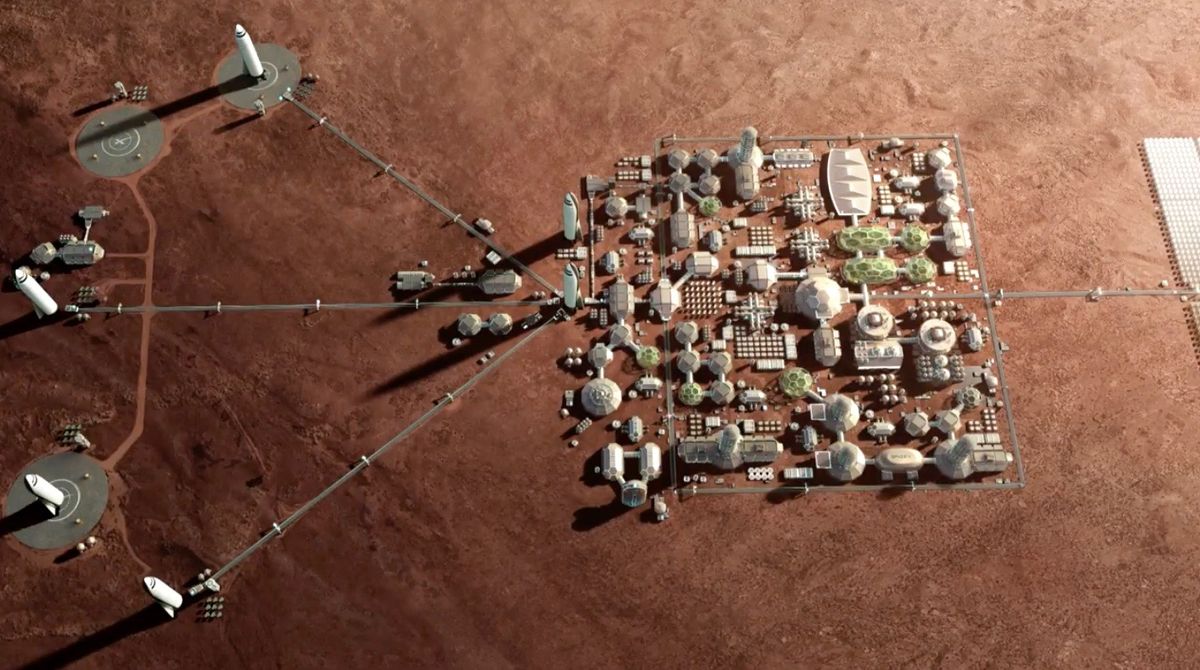 I don't know all the answers. Indeed, our media and art is usually pretty sparse in this regard. Beyond vague notions of arbitrarily capable robots or indentured servitude at Elon City, we lack a common vision for starting from scratch, with a will to overcome. This may be because we lack suitable analogies for an endeavor this ambitious. In my post on the Starship, I pointed out that SpaceX wants to lift the cargo constraint on city building, enabling logistics comparable to D-Day or the Berlin airlift. Certainly hundreds of tons of cargo lessens the difficulty of the operation, but what is the operation?
In order to understand how the operation works, we need to understand what it does. What mission does it serve? For want of a catchier phrase, the mission is to survive and then thrive.
Remember, Mars is a horrible place. No-one should want to go there. Humans need comprehensive life support and advanced technology to even survive the landing. Upon launch, the mission is to survive a six month voyage in space. Upon entering the atmosphere, the mission is to survive the next seven minutes. After executing a survivable landing, the mission is to survive for the first day, then week, then month, then year.
This constant expansion of the "time until certain death" is a microcosm of the later process of industrialization. At any point until complete industrialization, humans on Mars are vulnerable to certain disruptions, particularly of needed supplies. Later on, this margin may be measured in years but during the first few months, many other sources of risk need to be understood and retired.
After the first 18 months on the surface, the crew will face an important decision. Remain on Mars to keep building and be joined by more immigrants? Or bail out and take a Starship back to Earth? This is not an easy decision since neither option is without risk. In practice, this go/no go decision will be determined by whether enough baseline capacity has been built. Later, the Martians will need to build more space for future arrivals but in the first year, they need to first accommodate themselves!
To dive slightly deeper into technical details, the first year on Mars will be occupied by bringing basic needs online. There is plenty of discussion on the particulars, but there is agreement on the following:
Build and operate a giant solar farm to generate electricity.
Commission air miners to extract CO2 and nitrogen from the Martian atmosphere.
Set up a water mine, most likely some sort of ice well. Liquid water would be even better if available.
Set up chemical plant to produce methane, oxygen, ethanol and plastics.
Demonstrate agriculture with natural light and soils, or with containerized hydroponic systems.
Commission (tele)robotic systems of all kinds. Heavy construction, life support systems, etc. Anything that can be operated by computers or remote techs on Earth will be.
Demonstrate construction of pressurized habs on the surface, even if people are mostly living in the Starships or prefabricated structures.
Commission a protofab facility to produce one off parts or perform vital repairs.
In general it is impossible to do any kind of complex construction without accruing technical debt. Technical debt is where cutting corners saves time now but requires more time to fix in future. Under ideal circumstances, the Mars city will have a steadily diminishing shortage of available labor, so it makes sense to accrue some technical debt. As always, it's best to build systems that maximize the decision and learning rate. Most decisions are relatively easily reversed, and do not require enormous deliberation. The same goes for technical debt. The trick is to identify the interfaces which will cause path dependency and real headaches down the road, and get them right the first time.
Finally, let's consider the humble step function. There are several unprecedented achievements in building a Mars city which involve stepwise increments in difficulty. Getting humans to Mars. Operating a base on the surface. Getting humans back to Earth. Getting steadily more sophisticated industrial processes working. Even in 2020, the incremental difficulty of deep space human spaceflight is so high that it's effectively a blocker, which is why no-one has left low Earth orbit for nearly 50 years. It is vital that actions and decisions be measured by the extent to which they reduce the height of these step functions.
There is no point in cutting a corner to get humans to Mars if doing so leaves the program without any path to sustainable growth. The Apollo program is an excellent example of trading one step function for another – and canceling the Saturn V was inevitable. Not only was it too expensive to operate indefinitely, the entire architecture had no path to getting cheap enough to run on an ongoing basis.
There are several different ways we can think about starting the Mars city. Reducing step functions. Aiming to survive and then thrive. Accumulating technical debt responsibly. Or just assembling Ikea furniture all day, every day, for years. The path should be made easier for those who follow.